Welcome to Le Clos Jean and La Petite Cour, self catering holiday cottages situated in the heart of rural Normandy.
Le Clos Jean & La Petite Cour Cottages
We have now in 2020 four fully fitted gites in two locations, separated by a couple of minutes walk across the gardens. 
In 'Le Clos Jean' we have renovated the traditional stone Normandy longhouse into 2 lovely gites: The Jays/Finches with 7 bedrooms now sleeps 18 and The Robins 3 bedroomed sleeps 9, each with a private pool.
Across the garden in La Petite Cour, also a traditional longhouse, we have The Chestnut Cottage that sleeps up to 11 people and now also The Olives which sleeps 12.  These two cottages can be booked together as they have an internal link on the first floor if required and both have a private pool.
Within the extensive woodland gardens each cottage has its own private area and they are peaceful and tranquil to walk through, safe for children and ideal for dogs.
FREE WI FI INTERNET ACCESS IN ALL COTTAGES FOR YOUR LAPTOP OR PHONE.
The cottages are easily accessible by car through the eurotunnel, by ferry using the ports of Caen, St Malo, Cherbourg or Le Havre with DISCOUNT OF 20%  ON FARES FOR GUESTS USING BRITTANY FERRIES  and by  air with the airport at Dinard.
ANY QUESTIONS PLEASE CONTACT US ON robin.jones0651@orange.fr Thank you Robin and Jean.
If you are looking for an interesting, varied and relaxing holiday, with friends or family then Normandy is the perfect place to visit and we are the perfect place to stay. Normandy is a fascinating region with a great blend of coastal and inland culture. It is full of historical treasures and outstanding sites as well as fantastic golf courses, sports activities and horse riding tours in beautiful extensive countryside. 
It is also famous for its gastronomy, producing 60% of the country's apple cider, notably the cider brandy Calvados and it's famous cheeses – Camembert, Pont l'Évêque and Livarot. The area played host to The Impressionist artists and major literary figures including Guy de Maupassant, Marcel Proust and Gustave Flaubert. 
Here there is something for everyone of all ages and where better to experience it all then from the comfort and luxury of our cottages. So please go ahead and have a look around. A must is a visit to Mount St Michel and its famous monastery.
 FOR EXTRA PHOTO'S CLICK Here.
 LE CLOS JEAN COTTAGES are run by Robin and Jean and each cottage has been renovated to provide modern facilities within two 200 year old Normandy Longhouses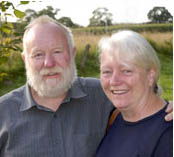 PETITE COUR COTTAGES – NEWLY RENOVATED "THE OLIVES" FOUR BEDROOMED COTTAGE OPEN JULY 2016 LINKED INTERNALLY TO CHESTNUT COTTAGE IF REQUIRED. IDEAL FOR FAMILIES UP TO 23 OR SEPARATELY SLEEPS 12 AND CHESTNUT 11. ASK FOR FURTHER DETAILS.
NEW FOR 2017 THE JAYS AND FINCHES COTTAGE now converted into one cottage which provides accommodation for 19
The cottages are easily accessible by car through the eurotunnel, ferry (by the ports of Caen, St Malo, Cherbourg and Le Havre) and by air with the airport at Dinard
DISCOUNT OF 20% ON BRITANNY FERRIES FOR GUESTS BOOKING ANY OF OUR COTTAGES.