OLIVES CHRISTMAS AND NEW YEAR 2016.
Wow What a lovely Place ! We stayed for Christmas and New Year 2016 seeing in 2017 in the Olives, Robin and Jean were lovely hosts and were always around if we needed anything or help, but they were not intrusive. Very spacious kitchen with all that was needed to cook a full Christmas dinner, and then a wonderful log burner to retire by while the children made use of the TV. The Olives had plenty of room for 4 Adults and 3 Children. Spacious ground surrounded by fields which made a lovely short walk on a cold very frosty morning. We were made very welcome and had a very enjoyable Christmas in the Olives. We hope to return one summer to enjoy it in some sunny, warmer weather. STUART PINK AND FAMILY.
OLIVES 2 OCT 2016
Nous avons été très bien reçu par nos hôtes. Le site est très calme. Logement un petit peu pittoresque à l'étage. Mais c'est ça qui fait son charme. À recommander. BEATRICE.
OLIVES AND CHESNUT 22 OCT 2016
We had an amazing stay at Robin and Jean's Cottage 🙂 They are very hospitable and extremely friendly. They are also flexible and understanding and very prompt when answering inquiries. We really enjoyed our airbnb experience with them, and highly recommend this place to large groups (we were 19 students!). This place comfortably sleeps 21 and is well equipped. We were extremely satisfied with out stay here 🙂 RABINA
OLIVES 28 OCT.2016
We have spent a very nice week end in Olives Cottage. Jean and Robin are very welcoming and friendly. They did everything to make us feel at home. The cottage is located in a quiet place with a large and nice garden, very cool for kids. The cottage is spacious, with all equipment and authentic decoration.SABRINA.
OLIVES AND CHESTNUT 10 NOV 2016.
Nous sommes une fanfare et cherchions une maison un peu isolée en Normandie pour pouvoir répéter le temps d'un Week End. Nous avons été accueillis par Robin et son épouse, tout deux très sympathiques, ils ont essayé de rendre nôtre séjour le plus agréable possible. La maison est très spacieuse, et bien équipée, nous n'avons manqué de rien.SALWA.
OLIVES AND CHESTNUT 16 DEC 2016.
Logement parfait pour une grande réunion de famille. Le calme de la campagne normande à beaucoup de charme ! ANTONI.
JAYS AND FINCHES NEW YEAR 2017.
Review Nous étions un groupe d'amis de 16 personnes, et nous avons passé le nouvel an dans la maison de Robin. Robin a été adorable, il est venu nous chercher à quelques minutes de la maison car nous trouvions pas le chemin. La maison est vraiment génial pour un grand groupe, il y a de l'espace pour tout le monde. L'endroit est calme et reposant, tout ce qu'il nous fallait pour les fêtes de fin d'année. La maison possède 2 salons avec des cheminées, un vrai bonheur. Merci encore à Robin pour son accueil et sa gentillesse. Melisa
Date: 22/08/2016
Guest name: Stephen
Party type: Families with Young Children
Status: Uploaded
Arrival date: 06/08/2016
Departure date: 20/08/2016
Scores (out of 10)
Facilities 10.0
Condition 8.0
Cleanliness 8.0
Comfort 7.0
Setting 10.0
Local Amenities 10.0
Value for Money 10.0
Review
The garden was lovely and private and the pool provided lots of fun. Wonderfully quiet, use of bikes for the children. Owners were extremely helpful. Lovely situation for looking at the medieval history of the area plus close to good beaches.
Our holiday at the Olives was a lovely and comfortable experience.The advert and photos covered the rooms accurately. The property was very clean and nicely presented. The rooms were spacious and plenty of room for a large family group and/or friends. The owners were really friendly and provided us with lots of information from planning the route to facilities available whilst we were there. We had a large free standing pool allocated to the property which was big enough for a family to use, plus a few extra! The property is within reach of a local kayak facility.The local town is about 1.5 miles away and very pleasant with a market, vet clinic, supermarket, bank, restaurant and bars. There is a very pretty church and at the end of town a cider and smoked sausage factory and gift shop. The property is within reasonable reach of Mount St Michel, various fun parks and beaches. We had a fabulous week. Thanks Robin and Jean
Date: 01/09/2016
Guest name: Liv
Party type: Families with Young Children
Status: Uploaded
Arrival date: 20/08/2016
Departure date: 27/08/2016
Scores (out of 10)
Facilities 10.0
Condition 10.0
Cleanliness 10.0
Comfort 10.0
Setting 10.0
Local Amenities 10.0
Value for Money 10.0
Review …………………………
TO VIEW THE VISITORS BOOKS AND SOME OF THE SCANNED COMMENTS UP TO MAY 2015
PLEASE CLICK ON THE LINK BELOW, THANK YOU.
https://youtu.be/Y5Bt5nypFFs – FROM 2013 UP UNTIL MAY 2015
http://www.youtube.com/watch?v=SvSDnqOJcOs   – FROM 2008 UP UNTIL 2012
CHESTNUT COTTAGE REVIEW.DUTCH FAMILY.MR AND MRS KLAVER.AUGUST 2015.
In August 2015, we, family with 4 children aged 9-16 years, spent a week in the Chestnut Cottage, part of Le Clos Jean in Saint-Cyr-du-Bailleul.
This large, distinctive, well equipped cottage is situated on a property with a number of other houses. Each house has its own pool, garden and parking and there is plenty of privacy.
The area lends itself to walking and cycling. There are outdoor toys available and there were even bicycles, enough for all of us! Even in bad weather there is plenty to do in the house, there are games, books and videos.
All major attractions of Lower-Normandy are from here easily accessible. The invasion beaches, several war museums, the Bayeux Tapestry and Mont Saint-Michel is less than 2 hours drive away.
What made this week very special for us was the good contact with the (English) owners Robin and Jean Jones, fine people who do everything to make your stay as pleasant as possible!
Fam. Klaver, Leeuwarden (The Netherlands)
I love this place ! My French home from home, so peaceful and beautiful and we're always well looked after by Robin and Jean. Looking forward to my next visit !  Chestnut cottage had the pleasure of hosting, gemma and wayne plus little freddy .
stayed four night's at the end of may 2015.From Essex.
Debbie Bowers …  Set in the heart of Normandy's stunning countryside, Le Clos Jean is so blissfully tranquil. The cottages wonderfully equipped and comfortable for families, as well as being ideally located for exploring lots of tourist spots (castles, museums, aqua park, zoo, beach, markets etc all within easy reach). I am of course a touch biased, being family, but I would still give the same review if I wasn't. Wish we were going this year. Have stopped in the Jays a few years ago and last year 2014 in the Chestnut cottage. Halifax
David and Susan…Set in the beautiful french countryside. These hardy stone built french cottages are roomy with everything you need for your relaxing stay.Robin and Jean (owners) are very friendly with good knowledge of the local area and amenities. We enjoyed our stay so much that we hope to return next year.highly recommended for families or groups of friends. june 2014.Essex.
Christopher Oldfield
A beautiful place for a very relaxing holiday, with loads of interesting places to visit near by, plus excellent French Cuisine…..Chestnut cottage April 2015.
We have been  regular visitors to Le Clos Jean and Chestnut cottage, for at least 10 years. We have stayed at some point in every one of the cottages. Jean and Robin do their best to make your stay comfortable and it is an idyllic spot to relax and enjoy the countryside. There are lots of lovely places to visit round-a-bout. I can thoroughly recommend it. Thank you Jean and Robin, Audrey.Stopped in all of our cottages over the last 10 years,usually in September.From Nottingham.
This is a great place to stay to use as a base to travel round or chill in the gardens we have been staying there for eight years now loads to do for children and familys robin and jean always make us welcome nice local food and bakers lots of history normandy beeches not far makes a good day out mortain white abbey cascades go karting mont st Michelle nice beeches at corolles granville star gazers at night log fires we look forward to coming this year see you soon the brice family.We have stopped in the Jays and the Chestnut cottage over the last eight years.From Barnet. London
 LE CLOS JEAN COTTAGES are run by Robin and Jean and each cottage has been renovated to provide modern facilities within two 200 year old Normandy Longhouses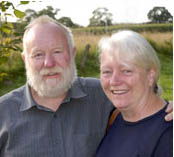 PETITE COUR COTTAGES – NEWLY RENOVATED  "THE OLIVES" FOUR BEDROOMED COTTAGE OPEN JULY 2016  LINKED INTERNALLY TO CHESTNUT COTTAGE IF REQUIRED. IDEAL FOR FAMILIES UP TO 23 OR SEPARATELY SLEEPS 12 AND CHESTNUT 11.  ASK FOR FURTHER DETAILS.
NEW FOR 2017 THE JAYS AND FINCHES COTTAGE now converted into one cottage which provides accommodation for 18.
The cottages are easily accessible by car through the eurotunnel, ferry (by the ports of Caen, St Malo, Cherbourg and Le Havre) and air with the airport at Dinard 

DISCOUNT OF 20% FOR GUESTS USING BRITTANY FERRIES.