Le Clos Jean & La Petite Cour Cottages
Please be aware that  non-refundable deposits from £250 per week of your stay is payable upon acceptance of your booking request. We will contact you with details of how to pay online.  Booking is only secured upon receipt of deposit. For any further enquiries please contact either Robin and Jean in France on 0033 (0)233 495 214, email robin.jones0651@orange.fr 
Thank you.
 LE CLOS JEAN COTTAGES are run by Robin and Jean and each cottage has been renovated to provide modern facilities within two 200 year old Normandy Longhouses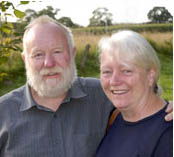 PETITE COUR COTTAGES – NEWLY RENOVATED  "THE OLIVES" FOUR BEDROOMED COTTAGE OPEN JULY 2016  LINKED INTERNALLY TO CHESTNUT COTTAGE IF REQUIRED. IDEAL FOR FAMILIES UP TO 23 OR SEPARATELY SLEEPS 12 AND CHESTNUT 11.  ASK FOR FURTHER DETAILS.
NEW FOR 2017 THE JAYS AND FINCHES COTTAGE now converted into one cottage which provides accommodation for 18.
The cottages are easily accessible by car through the eurotunnel, ferry (by the ports of Caen, St Malo, Cherbourg and Le Havre) and air with the airport at Dinard 

DISCOUNT OF 20% FOR GUESTS USING BRITTANY FERRIES.