Deep in the heart of rural Normandy we are surrounded by a fantastic range of outdoor activities such as walking, fishing, golf, cycling, canoeing and horse riding and interesting places to visit. The area is famous for its cider, calvados and cheese and has an abundance of orchards, stunning meadows and picturesque scenery. Normandy was also the site of some of the fiercest world war II battles with the D-Day landings happening on the Normandy beaches and there is much here of historical interest.
Places of interest
Le Teilleul – The local village has a variety of shops, butchers, bakeries, a supermarket and cafes.Only 10 mins from the village Canoe and Kayaking is available in the most beautiful setting, with up to 15km of water at Torchamp. This stretch of waterway is also ideal for cycling, walking and picnics and just 10mins from our village.
Mortain – A town famous for being the location of one of the defining battles of WW11. It also has an open air pool, a monastery, Petite Chapelle and two waterfalls, the Grand and Petite Cascades. A variety of shops and restaurants.
Domfront – a medieval hill town with cobbled streets and a ruined medieval castle. Tourist information centre, shops, cafes, bars and restaurants.
St Hilaire du Harcouet – Famous for the open air market of the region every Wednesday morning. Shops, cafes, restaurants and a lake with a childrens play area near the church. Indoor swimming pool and large supermarkets.
Bagnoles de l'orne – Famous Parisian resort spa town with a beautiful lake, casinos and excellent restaurants and bars with outdoor seating.
Carrouges – East of Bagnoles, a large chateau set within beautiful grounds and gardens.
Mont St Michel – The main tourist attraction in the region. The monastary is set on a rocky island high up within a walled village in the bay of Mont St Michel. Approx driving time 1hr.
Jullouville and Carolles – Beautiful sandy beaches perfect for children. Approx driving time 1hr.
St Malo – picturesque walled town by the sea with beaches and excellent shopping, a large acquarium, cafes, restaurants, good night life and a thriving marina.
Granville – famous fishing resort with elegant architecture, quaint shops, cafes and restaurants.
Bellefontaine – The Enchanted Village. Excellent parkland setting with bouncy castles, boats, roller skating, animals, cafes, train rides and climbing for the adventurous amidst the trees. A full day out, ideal picnic setting. There is an entrance fee for families.
FOR EXTRA PHOTOS PLEASE CLICK BELOW
 LE CLOS JEAN COTTAGES are run by Robin and Jean and each cottage has been renovated to provide modern facilities within two 200 year old Normandy Longhouses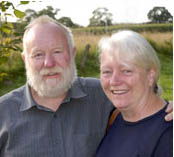 PETITE COUR COTTAGES – NEWLY RENOVATED  "THE OLIVES" FOUR BEDROOMED COTTAGE OPEN JULY 2016  LINKED INTERNALLY TO CHESTNUT COTTAGE IF REQUIRED. IDEAL FOR FAMILIES UP TO 23 OR SEPARATELY SLEEPS 12 AND CHESTNUT 11.  ASK FOR FURTHER DETAILS.
NEW FOR 2017 THE JAYS AND FINCHES COTTAGE now converted into one cottage which provides accommodation for 18.
The cottages are easily accessible by car through the eurotunnel, ferry (by the ports of Caen, St Malo, Cherbourg and Le Havre) and air with the airport at Dinard 

DISCOUNT OF 20% FOR GUESTS USING BRITTANY FERRIES.